Calgary, one of Canada's most expensive cities, has a super vibrant nightlife. The queer nightlife promises even more intense fun! But there's a catch: you may miss out on all the fun if you don't know the right spots.
As a member of the 2SLGBTQ+ community, it's always a delight to visit welcoming and exciting fun places.
From boutique hotels that offer gay-friendly accommodations to lively bars where you can dance the night away, Calgary caters to anyone seeking a diverse 2LGBTQ+ culture.
So, if you seek a safe spot to have fun at night and party, try out these local spots.
Best Gay Bars In Calgary
Twisted Element
Located in Calgary's Beltline district, Twisted Element stands out as one of the best gay bars in Calgary. Not only does it boast a vibrant ambiance, but it's also famed for hosting some of the most electric dance parties in the city.
A hot mess of fun, enthusiasm, and inclusivity, this bar has become a staple in gay Calgary nightlife. And if you're visiting during Calgary Pride, Twisted Element is sure to have events that are the talk of the town.
The Backlot
A stone's throw away from downtown Calgary, The Backlot is a small two-story bar that has made a big name in the gay scene. Though it might not have the hot tub that some gay-friendly hotels boast, it compensates with its iconic movie-themed décor and welcoming atmosphere. A favorite for many locals, it regularly features gay events that range from quiz nights to live music performances.
Texas Lounge
As the name might hint, Texas Lounge brings a touch of southern charm to Calgary. This venue is conveniently close to several gay-friendly hotels, offering a dual experience.
On the top floor, you may engage in spirited conversations and enjoy live music. But as you descend to the lower level, the energy shifts to vibrant dance parties and enthusiastic karaoke nights.
It's a space where the queer community and their allies feel at home while enjoying the very best of what gay Calgary has to offer.
Greta Bar
Greta Bar isn't your typical gay bar. Located in the heart of downtown Calgary, it combines the warmth of queer spaces with the thrill of arcade games and the comfort of a boutique hotel's lounge.
Though not exclusively gay, it's undoubtedly gay-friendly. Their unique offering, from dance parties to arcade games, ensures something for everyone. Plus, if you've booked your stay in a nearby hotel, you might just find special gay events hosted in collaboration with Greta.
Ship & Anchor
Situated on the bustling streets of Calgary, Ship & Anchor is not just any regular bar. It's where Calgary's heart seems to beat the loudest.
Known for its positive attitude, it's one of the most fun places to be any night. While Ship & Anchor doesn't have the steam room of a boutique hotel's fitness center, it makes up for this with its lively atmosphere, pool tables, and weekly events. You can also enjoy engaging drag shows.
The Attic Bar & Stage
A stone's throw away from the famous Model Milk restaurant, The Attic Bar & Stage promises an experience unlike any other in Calgary. It's not just a place for drinks; it's a hub for live performances, ranging from music to comedy shows.
The energetic ambiance of this venue resonates with the essence of Calgary – vibrant and inclusive. Think of the cultural enrichment of a boutique hotel combined with the entertainment value of Dickens Pub, and you've got The Attic Bar & Stage.
King Eddy
Iconic and historically rooted, King Eddy blends the old and the new. Once you step inside, you're instantly hit with nostalgia mixed with modern flair.
While it might not offer the pool tables or steam room found in upscale spots, it compensates with its rich roster of live performances.
King Eddy is a testament to Calgary's ever-evolving arts and entertainment scene, from blues to rock, comedy shows to special weekly events.
Bank and Baron P.U.B
Housed in a building that echoes Calgary's rich history, Bank and Baron P.U.B. uniquely blend architectural charm and contemporary offerings. It's like stepping into a boutique hotel where each corner tells a story.
Though you might not find a fitness center here, the entertainment is enough to give your heart a good workout. With its line-up of comedy or DJ shows, live performances, and a vibe that is unmistakably Calgary, it's a spot that promises a memorable night. So, if you want to relieve your stress after a long day, you can try out this bar.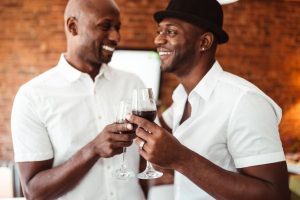 Cowboys Dance Hall
In the heart of Calgary lies Cowboys Dance Hall, an establishment that has captured the essence of the city's cowboy culture and its emerging cosmopolitan vibe.
While not exclusively one of the best gay bars in Calgary, its immense popularity and inclusiveness mean it's frequented by a diverse crowd. It's big and buzzes with energy, from its dance floor to live events. Little wonder it's a favorite for locals and tourists seeking a taste of the city's nightlife.
Home and Away
A slightly different vibe from the usual gay bars, Home and Away is a testament to the evolving gay scene in Calgary. Merging the comfort of a traditional bar with the lively spirit of a sports bar, it caters to those who want both entertainment and relaxation. Their regular events, game nights, and welcoming environment make it a prominent spot in gay Calgary's social tapestry.
Dickens Pub
This bar stands out as a haven for the alternative and underground scenes. While it's not exclusively a gay bar, Dickens Pub is an integral part of the gay scene in Calgary.
Hosting many events, from live music nights to themed parties, Dickens Pub encapsulates the spirit of acceptance and fun that defines gay Calgary.
Over to You
Calgary's vibrant nightlife reflects its diverse populace and progressive outlook. While the city boasts some of the best gay bars in Calgary, the inclusive spirit of these bars truly captures Calgary's inclusiveness. As the city continues to evolve, so does its gay scene. And that's great! It means everyone has a place to call home in this dynamic city, regardless of who they are or love. Want some taste of Calgary's thrilling nightlife? Try out any of these bars!